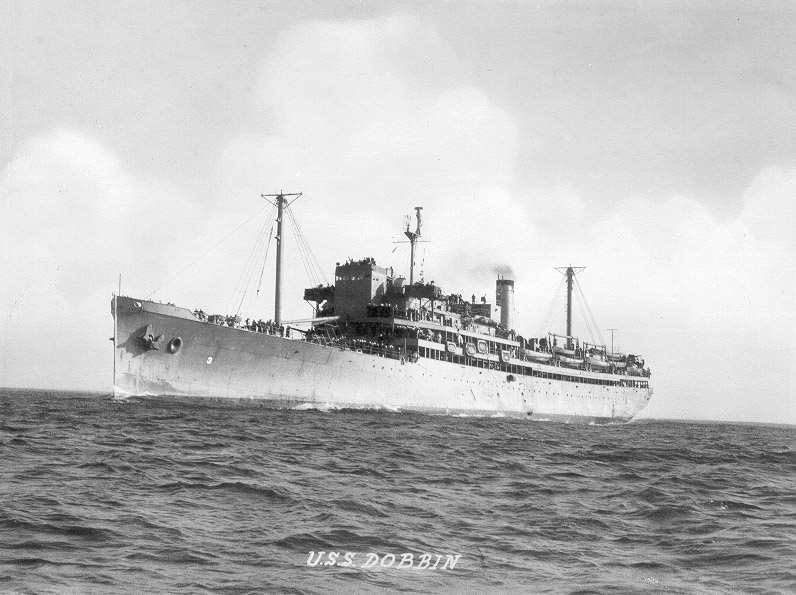 Commander Thomas C. Latimore, became the captain of the
USS Dobbin
, a destroyer tender, in April 1941.  The ship was based at Pearl Harbor.  Yeoman Second Class Kenneth Isaacs was aboard that summer when the captain disappeared.
"He was from Navy Intelligence," reported Isaacs.  "They had transferred him from Washington, D.C.  He was a very quiet, solitary, and elderly man, and he would take hikes up into the Aiea hills, which were surrounded by sugarcane and pineapple fields.  The area was not built up with fortifications as at the present time.  It was a real wilderness.  In some of the areas the only way you could get in was just cut your way through the brush."
To this day, the commander's disappearance remains a mystery.
"Captain Latimore came back to the ship one time," said Isaacs, "and he had an arm wound which he said that he had hurt in a fall.  For a while he had his arm in a cast.  It healed, and then in July he left the ship again, wearing a khaki uniform and an old hat an carrying a walking stick which, evidently, was a souvenir to him from somewhere else.  And his didn't come back to the ship.
"After we realized that he was absent, well, we sent searching parties of about three hundred men from the area and from the ships in the harbor.  The Honolulu police and the Army were notified.  They had tremendous searching parties out, and they searched for approximately a month trying to locate him, but they never did find him.  They took their trackers from Schofield, who were familiar with the area, with dogs, and they never did find anything.
"There was no evidence of his remains anywhere.  At first we figured it was a result of foul play.  Later on, some of the talk was that he went up into the hills and ran into Japanese spotters who were plotting the fleet, and they killed him and did away with him, or we had a feeling that what he might have discovered had caused him to leave the area because of his intelligence background and take the information with him to Washington."
Exactly what happened to Latimore has never been explained.  He was declared dead on July 19, 1942.  The incident was then forgotten by almost everyone but Isaacs.
Staff Sergeant Frank Luciano, was assigned to headquarters at Fort Kamehameha near Hickam Field.  He reported that after the attack on Pearl Harbor, that "there were Japanese communicating with the attackers."
"We found some of those," continued Luciano.  "We got one of them.  He was in a house, and we caught him up at what we called Aiea, which was behind Pearl Harbor.  We took radios and radio receivers.  The regular intelligence people got him before I got there.  We just got the radios.  We confiscated them.  They were just ordinary stuff.  In those days there wasn't the sophisticated equipment that you see today, but it was enough to radio two or three hundred miles and get answers back.  They also had shortwave radio receivers but not senders."
Aiea Heights offers excellent views of Pearl Harbor.  Many of the photographs and motion pictures of the Japanese attack were taken from this vantage point.  It is reasonable that there might have been Japanese spies in the area, and in the months before the attack a message was sent to Japan which plotted the ships in the harbor.
Could Latimore have stumbled upon some Japanese spies on his final walk, or was there some reason for those walks other than exercise and enjoyment?  Had the man from Naval Intelligence been sent to Pearl Harbor to monitor Japanese activity (his duties as captain of the Dobbin being part of his cover)?


Source: Remembering Pearl Harbor: Eyewitness Accounts by U.S. Military Men and Women edited by Robert S. LaForte and Ronald E. Marcello [Random House: New York, 1991] pgs 203-204, 226-232.