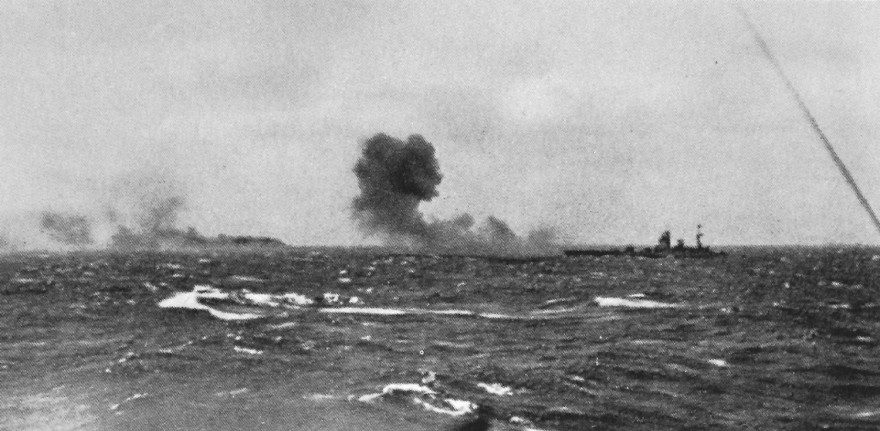 The battleships
Rodney
and
King George V
waited for daylight on 27 May before attacking. At 8:47 am, they opened fire, quickly hitting
Bismarck
. Her gunners achieved near misses on
Rodney
, but the British ships had silenced most of the German guns within half an hour. Despite close-range shelling by
Rodney
, a list to port and widespread fires,
Bismarck
did not sink.
According to Ballard's underwater surveys in recent years the British guns achieved only four penetrations of Bismarck's armour, two through the upper armour belt on the starboard side from
King George V
and two on the port side from
Rodney
. These four hits occurred at about 10:00 am, at close range, causing heavy casualties among the sheltering crew.
Nearly out of fuel – and mindful of possible U-boat attacks – the British battleships left for home. The heavy cruiser
Dorsetshire
attacked with torpedoes and made three hits. Scuttling charges were soon set off by German sailors, and at 10:40 am,
Bismarck
capsized and sank.
Dorsetshire
and the destroyer Maori rescued 110 survivors. After an hour, rescue work was abruptly ended when there were reports of a U-boat presence. Another five survivors were picked up by U-74 and the German weather ship Sachsenwald. Over 2,000 died.
https://en.wikipedia.org/wiki/Operation_Rhein%C3%BCbung#Bismarck.27s_end
--
The last battle of the German battleship Bismarck took place in the Atlantic Ocean approximately 300 nmi (350 mi; 560 km) west of Brest, France, on 26–27 May 1941. Although it was a decisive action between capital ships, it has no generally accepted name.
The morning of Tuesday, 27 May 1941 brought a heavy grey sky, a rising sea and a tearing wind from the northwest. Because of this northwesterly gale, Admiral Tovey concluded an attack on Bismarck from windward was undesirable. He decided to approach on a northwesterly bearing. Provided the enemy continued steering northward, he would deploy to the south on an opposite course at a range of approximately 15,000 yd (14,000 m). Bismarck was sighted bearing 118° at a distance of 25,000 yd (23,000 m).
Rodney firing on Bismarck, which can be seen burning in the distance
Rodney and King George V drew closer to Bismarck in line abreast, their enemy well illuminated by the morning sun in the background. Rodney steered to the east so that her gunfire would work the length of Bismarck, while King George V took the side. They opened fire at 08:47.
https://en.wikipedia.org/wiki/Last_battle_of_the_battleship_Bismarck
--
The sea ran high with the wind from the north-west at force 8 (34-40 knots). On board the
Bismarck
, the atmosphere on the bridge was tense, and they knew it was only a matter of time before the British engaged them with heavy ships. The German battleship was steering against the wind at seven knots. The flooding in the stern compartments had somehow reduced the bow trim although the ship had a slight list to port. At 0833,
King George V
and
Rodney
altered their course to 110º, and ten minutes later at 0843, they sighted the
Bismarck
at 23,000 meters (25,150 yards).
http://www.kbismarck.com/bismarck-last-battle.html
--
Burkhard Mullenheim-Rechberg was a gunnery officer aboard Bismarck and the highest ranking survivor:
"The alarm bells were still ringing when, returning from the bridge, I entered my action station.  I picke up the control telephone and heard, "Two battleships port bow."  I turned my director and saw two bulky silhouettes, unmistakably King George V and Rodney, at a range of approximately 24,000 meters.  As imperturbably as though they were on their way to an execution, they were coming directly towards us in line abreast, a good way apart, their course straight as a die.  The seconds ticked by.  Tension and anticipation mounted.  The nerves of our gun directors, gun captains, and range-finding personnel were steady.  After the utterly hopeless night they had just spent, any action could only be a release.  The very first salvo would bring it.  How many ships were approaching no longer meant anything, we could be shot to pieces only once."
http://www.world-war.co.uk/bismarck_story.php3