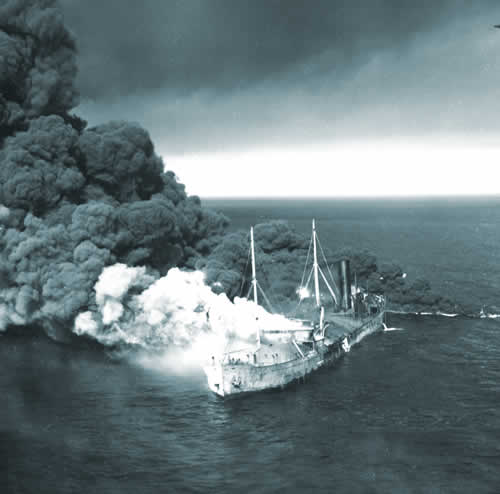 The Second Happy Time lasted from January 1942 to about August of that year and involved several German naval operations including Operation Paukenschlag (or Operation Drumbeat) and Operation Neuland. German submariners named it the happy time or the golden time as defense measures were weak and disorganized, and the U-boats were able to inflict massive damage with little risk. During this period, Axis submarines sank 609 ships totaling 3.1 million tons and the loss of thousands of lives, mainly those of merchant mariners, against a loss of only 22 U-boats.  One historian called it "America's Second Pearl Harbor" and placed the blame for the nation's failure to respond quickly to the attacks on the inaction of Admiral Ernest J. King, commander-in-chief of the U.S. fleet. Others however have pointed out that the belated institution of a convoy system was at least in substantial part due to a severe shortage of suitable escort vessels, without which convoys were seen as actually more vulnerable than lone ships.
https://en.wikipedia.org/wiki/Second_Happy_Time
--
During the first 6 months of the German U-boat offensive out of the US east coast some 397 ships totalling over 2 million tons were sunk, costing roughly 5000 lives. In the process only 7 U-boats (U-85, U-352, U-157, U-158, U-701, U-153 and U-576) were lost. There were only survivors from U-352 (33) and U-701 (7), the rest went down with all hands. 302 Germans were lost on these 7 boats.
http://uboat.net/ops/drumbeat.htm
--
On December 7, 1941, the German High Command received word that the Japanese had attacked at Pearl harbor. For Admiral Karl Donitz, the commander of all U-boats based in France, the time was ripe. Even as a young officer, Donitz had been fascinated about attacking the US. Looking at the map, the distance from France to the waters off the US east coast is 3000 nautical miles. Unlike the Luftwaffe, Donitz had two submarines capable of attacking the US: Type IXB and IXC. When Donietz requested the use of 12 IX Type U-boats for his operation, he received a lukewarm response, in fact, all of the available U-boats were already in use and on station—but for five, which happen to be the advanced IX Type! These were: U-123, U-130, U-66, U-109, and U-125. Two were IXB types, the remaining were IXC types. Their captains were briefed and told to not expose themselves unless the target was at least 10000 tons while in American waters. The fishing ground was from Cape Hatteras to St. Lawerence.
http://hubpages.com/education/Operation-Drumbeat-Nazi-U-boats-Off-the-American-Coast--1942
--
When Adolf Hitler declared war on the United States in December 1941, U-boat skippers were more than ready to take the fight to American shores.  Dönitz promptly began planning to take the conflict to the shores of the United States. He worked out a plan that called for scores of submarines to prowl the US coasts and virtually halt shipping there. But Berlin was reluctant to commit so many resources to the effort. Some subs would have to go to Norway to guard against a supposed British invasion. Still others were to be sent to the Mediterranean— which Dönitz regarded as a trap for U-boats—to support Lieutenant General Erwin Rommel's Afrika Korps. In the end there were only nine subs available for operations in American waters and about five battle-ready ones that could set out at once. One of those subs was Hardegen's U-123.  Given these paltry resources, Dönitz still expected to make quite an impression on the Americans. He labeled his effort Operation Drumbeat—Paukenschlag in German, a word with overtones of thunder and lightning—and assigned to it captains he was sure could stir up American waters.
http://www.americainwwii.com/articles/sharks-in-american-waters/