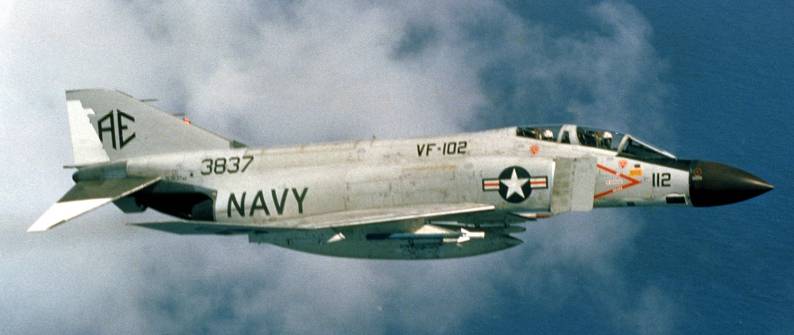 In the spring and summer of 1968 there occurred what would come to be called "The
America
Debacle" — because most of the aircraft involved flew from
USS America
(CV-66).
On the morning of May 7, five MacDonnell Douglas F-4 Phantom IIs from the aircraft carrier
Enterprise
engaged two North Vietnamese MiG-21s.  Two radar guided Sparrow missiles were fired without result.  But to add injury to insult, one of the outnumbered MiGs managed to shoot down one of the F-4s.  Fortunately, both the pilot and the radar intercept officer (RIO) ejected and were recovered by Search and Rescue units. 
Two days later another engagement occurred between two 
Enterprise
fighters and three MiG-21s.  The two Phantoms fired four Sparrows, claiming one "probable" and one "possible" kill, but neither were officially credited. 
On June 14, two Phantoms from the carrier
America,
fired four more Sparrows at two MiG-17s without result.  Two days later two more
America
F-4s engaged two MiG-21s, shooting four more Sparrow missiles, again without result.  However, the MiGs were more fortunate and another Phantom was shot down.  The pilot became a prisoner of war and the RIO was listed as Killed In Action. 
So far, 14 Sparrows, at a cost of $150,000 apiece, had been fired in a little over a month.  Additionally, two Navy fighter planes, costing $4 million a copy, had been lost.  But not a single aerial victory had been achieved. 
Three more times in June,
Enterprise
and
America
Phantoms engaged North Vietnamese MiGs.  They fired 13 more Sparrow missiles, again they got no hits. 
Finally, on July 10, an F-4 got a kill.  Roy Cash, Jr. and Joseph Edward Kain, Jr. shot down a MiG, but with a Sidewinder heat seeking missile.  The victory upped the Navy Phantom kill ratio to ten MiGs for five F-4s - 2 to 1.  In World War II and Korea the Navy's kill ratio had been five to eight times higher. 
Then on August 17, the worst happened.  While dogfighting with two MiG-21 a
Constellation
Phantom shot down his own wingman with a Sidewinder.  The pilot and RIO ejected safely, but became POWs.
The
America
Debacle was the final straw for the Navy; for one kill, over thirty Sparrow missiles had been fired, and two Phantoms had been lost.  The debacle led eventually to the creation of a fighter weapons school, and that school, which became known as "Top Gun," would dramatically improve the performance of Navy fighter pilots over Vietnam. 
Source: Robert K. Wilcox,
Scream of Eagles
(John Wiley & Sons, Inc.: New York, 1990), pgs 95-96