On April 16, 1945, while stationed at Radar Picket Station One (RP1),
USS Laffey
faced an unrelenting assault by Kamikazes.  
Laffey
survived despite being badly damaged by four bombs, six
kamikaze
crashes, and strafing fire that killed 32 and wounded 71. The assistant communications officer — Lt. Frank Manson — asked Captain Becton if he thought they'd have to abandon ship, to which he snapped, "No! I'll never abandon ship as long as a single gun will fire." Becton did not hear a nearby lookout softly say, "And if I can find one man to fire it."
  Though knocked out of the war,
Laffey's
service career was not over.  The destroyer would be recommission in 1951, participate in the Korean War and patrol the Mediterranean Sea during the Suez crisis. 
Laffey
was decommissioned in 1975.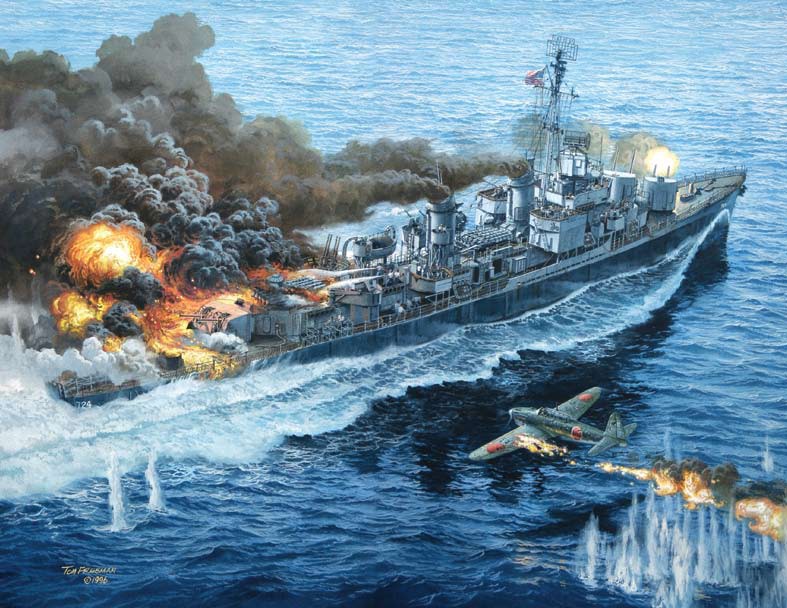 Wiki:
http://en.wikipedia.org/wiki/USS_Laffey_%28DD-724%29
Laffey.org:
http://www.laffey.org/
NavSource.org:
http://www.navsource.org/archives/05/724.htm
Military Factory:
http://www.militaryfactory.com/ships/detail.asp?ship_id=USS-Laffey-DD724
World War II magazine article: USS Laffey: Attacked Off Okinawa in World War II:
http://www.historynet.com/uss-laffey-attacked-off-okinawa-in-world-war-ii.htm
Kamikaze Images.net:
http://kamikazeimages.net/museums/laffey/index.htm
Patriots Point.org:
https://www.patriotspoint.org/explore_museum/uss_laffey/
USS Laffey: Attacked Off Okinawa in World War II